About the campground
There are few other campgrounds in the Czech Republic with such a quiet and relaxed atmosphere. Our campground is a favourite among:
families with children, who love to enjoy a relaxed vacation full of sun,
seniors looking for a quiet camping,
tourists and especially fans of cycling.
The campsite is not suitable for big groups of young people who want to have party every night.
ATTENTION!!! The campsite is closed for paddlers. Also excessive alcohol consumption and disturbance of other guests (for example with loud radio) is not allowed!
Why should I stay in the campsite Paradijs?
There are many camps in southern Bohemia. But stay in our camp leaves in your heart unique feelings:
The camp is located on a quiet solitude in unspoilt nature.
It is surrounded by dense forest and beautiful river Vltava (Moldau).
You will be amazed by the amazingly pure air.
In the morning you will be woken up by the divine singing of birds.
Sunset at our campsite is guaranteed concert for the eyes.
Evenings by the fire will evoke childhood memories.
If it is necessary, Český Krumlov is really close.
Paradijs is simply a wonderful campsite in Southern Bohemia!
Český Krumlov – a pearl in the South Bohemian area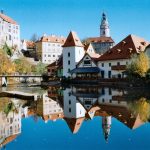 Camping Paradijs is the ideal camp in South Bohemia! Český Krumlov is located only 6 km from the campsite. The best way to get into the city is by car, but there is no problem to be transported by bus (bus stop 1 km from the camping = 20 minutes walk) or by bike. In the city you will find many shops, restaurants, cultural events and historical monuments.
Your visit is reward for our effort
Even the customer more skeptic left our campsite with a smile and nice memories. You can be sure of that by reading the references in our guestbook. Since 2008, our little camp Paradijs also annually inspected by inspectors from the Dutch agency ACSI, which provides certification of campsites throughout Europe. We are honored to be chosen among the limited number of "Great Little Campsites".
We are very proud that we take place regularly in the prestigious poll for TOP 50 Campsites of the Czech Republic (2012, 2013, 2014,2015). In 2016 and 2017 we placed even in TOP 25 Campsites of the Czech Republic. Thank you for your trust and know that our priority remains not to disappoint you.
If you do not have own tent or caravan, you can hire also one of two original retro trailers,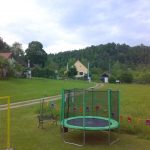 luxury family apartment or nice mobilehome.
Your children can jump on a new trampoline with a diameter of 3 meters or enjoy the swing! From 2012 anyone can play ping pong, skittles or volleyball.
Ideal campground for trips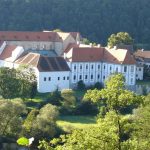 Besides visiting Český Krumlov there are other sights worth. You can walk to the Golden Crown (Zlatá Koruna), which is a very important historical monument – the monastery and the church of the Assumption of the Virgin Mary (30 minutes from the campsite on foot). Another 10 km further you can see the romantic ruins of castle Girls stone (Dívčí Kámen). On bicycle you can visit for example the highest mountain in the region Kleť with observatory tower and a restaurant. In the surroundings there are many cycling paths through the picturesque South Bohemian countryside leading to České Budějovice area or to Lipno.
More information about the activities in the area can be found for example here.